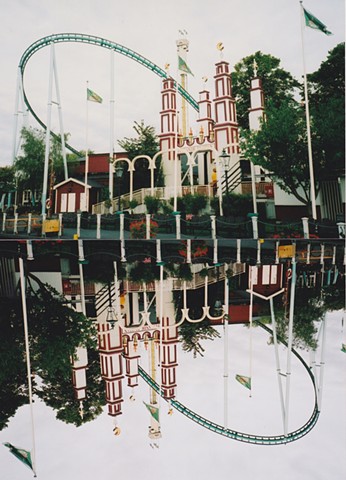 Jennifer McMackon, Fairy Castle, Now and Next Minute Upside Down Reversal Photograph
photographic collage
4"x6"
2020
I made this photograph in Stockholm during the exhibition of my video anthology Thrill Rides at Konstakuten as part of an annual photography festival called XpoSeptember. The video was projected in the main gallery but upon arrival, I was offered an adjacent long, extremely narrow exhibition space if I wanted to show any other works I may have brought with me... which I hadn't. So I made some.
I put myself on a boat and ferried my way to the island of Djurgården where there is a kind of floating amusement park called Gröna Lund. I shot an abundance of material and the following day or so, I created an edition of works geared to the very small exhibition space.
The pictures are very similar to the Now and Next Minute Photographs I made as part of my Residency at Hallwalls a year prior. They are collages utilizing successive images, one of which is turned upside down and abutted to the other along a central seam or fold. They seem like mirror images but they are not. Top and bottom offer the slightest differences in registration and happenstance, the kind that might occur in the time it takes to breath and click.